Directed by Grant Singer, Netflix's 'Reptile' follows detective Tom Nichols on the quest to solve the murder of a realtor while coming to terms with some difficult things in his past. Brought alive on the screen by Benicio Del Toro, Tom appears to be a brooder whose keen observation leads him to catch even the tiniest of details. He cannot let go of his hunches and instincts and sees them through, even if it means he might land in trouble. But he also has a lighter, humorous side to him, which makes him a believable character. If you are wondering whether he is based on a real person or inspired by one, here's what you should know. SPOILERS AHEAD
Is Tom Nichols Based on a Real Detective?
'Reptile' is a fictional film that follows a case concocted by screenwriters Grant Singer and Benjamin Brewer. All the characters and events in the film, including Tom Nichols, are fictional. He is not based on a real detective; however, when it comes to portraying him on the screen, actor Benicio Del Toro did it with as much authenticity as possible. The Academy Award-winning actor is known for playing hardened characters, often walking the grey area, and with 'Reptile,' he got to be a part of the process early on.
In conversation with THR, producers Molly Smith and Trent Luckinbill revealed that when the script came along their way, their first thought was to cast Del Toro. Calling him a "tailor-made fit for this role," they revealed that right in the first meeting with Grant Singer, who also directed the film, they knew Del Toro was "the guy" for the role. Having worked with him on the 'Sicario' movies, they wanted him to be a part of the collaboration early on and bring his take on the character and the story. "We knew he'd be a great partner as both an actor and a producer in this case. We knew what he does well, and it just lent itself to this movie. He was our first real thought; he was the first person that we took 'Reptile' to, and he saw the same movie we did," Luckinbill added.
Once the actor was on board, he also became a part of the scriptwriting process, receiving the writing credit for the film, which is a first in his decades-old career. Calling 'In Cold Blood' as one of the inspirations for 'Reptile,' Del Toro said: "The collaboration was a lot of fun. Once we knew where we needed the story to land, then the question becomes, 'How do we get there? How do we make it interesting?' We did research and tried to make it as real as possible."
With all this in mind, we can say that the character of Tom Nichols is entirely fictional. It was created to serve the narrative of 'Reptile' and was elevated by the contribution of Del Toro as a writer and actor, who tried to ground the character in reality and make him as realistic and relatable as possible.
Why is Tom Nichols Called Oklahoma?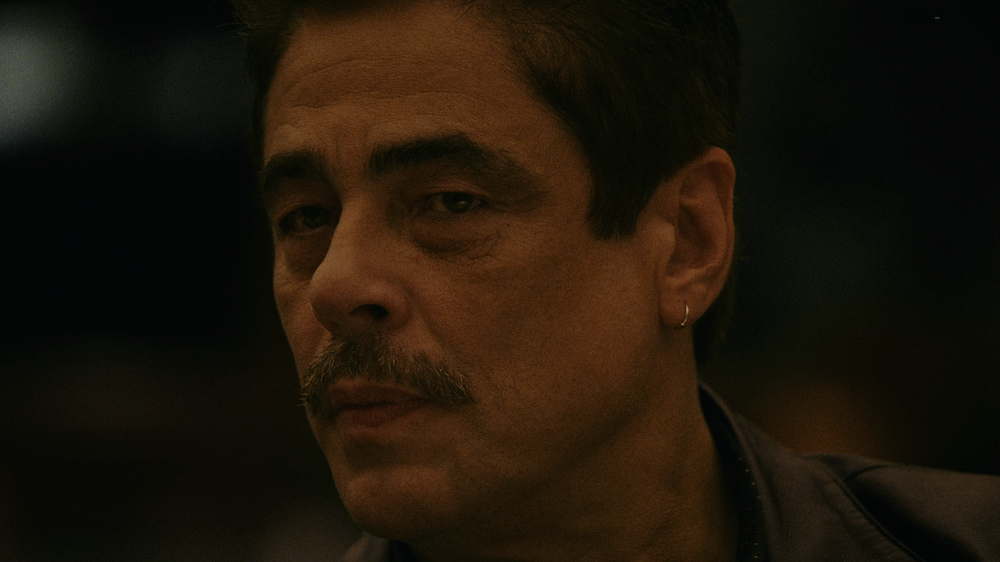 While the focus of 'Reptile' is on solving the murder, the movie also gives us some lighter moments with Tom, his family, and friends. Following him in his post-work hours, we often find him and his wife, Judy, hanging out at a dance club with their friends. It turns out that Tom and Judy love to dance, particularly the Oklahoma Square Dance. This is where Tom gets his nickname from.
When asked why they call him "Oklahoma," he says it's because he "can cut a line." This means that he is very good at the square dance, which is why perhaps he and his wife are regulars at the dance club. The dance sequences show us the intimacy and understanding between the couple, who already seem very loving towards each other. These scenes also reveal that Tom likes to discuss his cases with his wife, who helps him see what he might miss.
The first time we see Tom and Judy dancing, she talks about the statistics of the case, where generally, the boyfriend is the murderer. It is still relatively early in the case to make any predictions, but by the end of the movie, Judy's guesswork while Oklahoma square dancing with her husband turns out to be correct, even if it's just one part of the larger mystery.
Read More: Jerrod Carmichael's Next Directorial Lucky Girl Explores Broken Justice System