The filming of CBS' 'Ghosts' season 3 is slated to begin in Montréal, Québec, in early 2024. The comedy show, a remake of the BBC series of the same name, follows a young couple, Samantha and Jay Arondekar, who get a big surprise when they inherit a beautiful country house from a distant relative named Sophie Woodstone. At first, they think their dreams have come true and plan to turn the property into a B&B but things take a strange turn when they find out that the house is falling apart and has some unexpected guests – ghosts. While Jay cannot see or hear these ghosts, Samantha can, thanks to a near-death experience she had.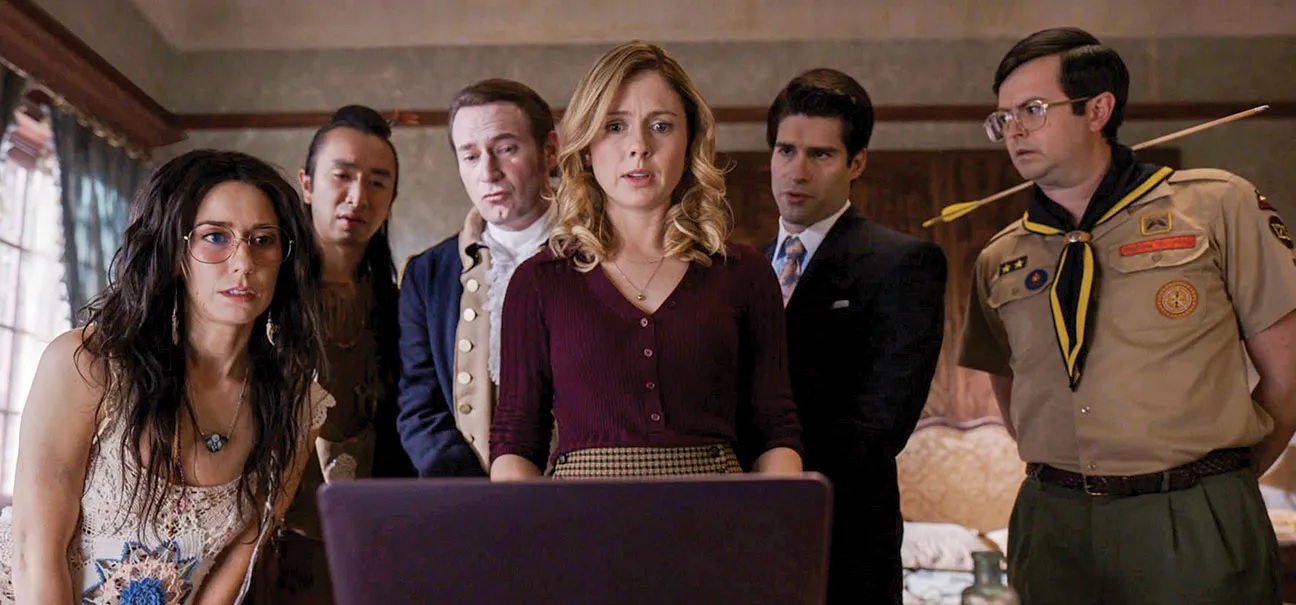 The show was developed by Joe Port and Joe Wiseman. The duo also worked together in shows like 'Zoey's Extraordinary Playlist,' 'Me, Myself and I,' 'The Odd Couple,' 'The Crazy Ones,' and 'New Girl.' The two serve as executive producers of the series as well, along with Mathew Baynton, Simon Farnaby, Martha Howe-Douglas, Jim Howick, Laurence Rickard, and Ben Willbond. The executive producers also include Alison Carpenter, Debra Hayward, Alison Owen, and Angie Stephenson.
The series stars Rose McIver as Samantha "Sam" Arondekar and Utkarsh Ambudkar as Jay Arondekar. McIver is also recognized for her roles in Hulu's 'Woke' and The CW's 'iZombie,' while Ambudkar is known for his performances in Fox's 'The Mindy Project' and Netflix's 'Never Have I Ever.'
The cast also includes Brandon Scott Jones ('The Good Place') as Isaac Higgintoot, Danielle Pinnock ('Young Sheldon') as Alberta Haynes, Richie Moriarty ('The Tick') as Pete Martino, Asher Grodman ('Law & Order: Special Victims Unit') as Trevor, Sheila Carrasco ('Jane the Virgin') as Flower, Rebecca Wisocky ('Brooklyn Nine-Nine') as Hetty Woodstone, and Devan Chandler Long ('Doom Patrol') as Thorfinn. The main cast members are expected to continue playing roles in the new season.
'Ghosts' first premiered in October 2021 and went on to become one of the most-watched shows on CBS, which led to its subsequent renewal for two more seasons in January 2022 and January 2023 respectively. As for what to expect from the upcoming season, Wiseman revealed that the writers might touch upon the stories of different characters.
"We ended [season 2] with a cliffhanger we can't talk about yet. But we also, in the episode before the finale, we solve Alberta's murder, which has been a season-long mystery that we've been [working on]," Wiseman said in an interview with Deadline. "And all the characters have ongoing storylines that we can touch on every now and then, you know? We have a huge cast, which is the strength of the show; we can go in so many different directions because everyone is just a home run hitter. But we also have a lot of characters to service," he added.
While the new seasons of the show usually premiere around fall, the third season faced delays due to the WGA and SAG-AFTRA strikes. With the SAG-AFTRA still on strike, the shoot is now expected to begin early next year in Montréal, where the previous seasons were also filmed.
Read More: Criminal Minds: Evolution Season 2 Returns to the Streets of Los Angeles Early Next Year